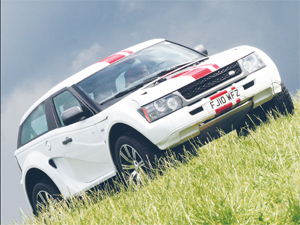 CPP Global Holdings Ltd, the specialist coachbuilder based in Coventry, has acquired Bowler Off Road Limited, the Derbyshire-based manufacturer of the Nemesis high-performance cross country racer, for an undisclosed price.
Brendan O'Toole, managing director of CPP, said: "I am delighted to have the opportunity to take the Bowler brand to new heights on the basis of very exciting plans. I'm looking forward to working with Drew Bowler and his exceptionally talented team to bring these plans to fruition."
Drew Bowler, managing director of Bowler, said: "I'm very excited that we are joining the CPP group of companies. Bowler will expand and reach its full potential, thanks to the access we now have to greater resources in a number of respects: finances, the highly-skilled workforce, its technical capabilities and advanced facilities. We will continue to do what we do best, which is developing, engineering and racing our cars. And there are dramatic plans for the business over the longer term."
Development and engineering will remain at Bowler's current facilities in Belper, Derbyshire. Production, including that of the Nemesis EXR road-going variant, will be transferred to CPP in Coventry from early 2012.
CPP is a British coachbuilding company with a workforce of 250 automotive specialist designers, technicians and craftsmen, working with global luxury car brands by adapting standard vehicles.