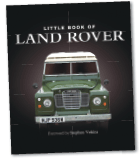 Little Book of Land Rover, foreword by Stephen Vokins (ISBN 978-1-907803-01-7), is a cute little book, full of colourful photographs and interesting snippets of information about the iconic vehicle. It covers every model from the iconic Series I up to the current Freelander 2, giving a potted history as well as descriptions of key design features and range line-ups.
While there won't be much in this book that is new to diehard Solihull enthusiasts, it's a nice thing to have on the coffee table, or beside the loo, for when a moment of green oval indulgence seems appropriate. The section about specialist vehicles is disappointingly brief, but the discussion of expeditions is good and contains lots of decent G4 images.
With a retail price of just £7.99, we daresay this book would make a very good present for any Land Rover fanatic. It'll no doubt find its way into a stocking or two once Christmas comes.