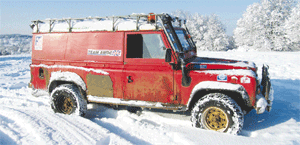 A member of the public who used his 4×4 vehicle to ferry ambulance staff to and from work during the severe weather earlier this year has received a Chief Executive's Commendation for his efforts.
Andy Trimmer from Guildford, a marshal with the All Wheel Drive Club, joined ambulance staff at South East Coast Ambulance Service NHS Trust's, (SECAmb) annual awards ceremony for the west of its region at the Felbridge Hotel in East Grinstead in October.
Andy was nominated by Clinical Operations Manager from Haslemere Ambulance Station Claire Horsfi eld. Andy approached SECAmb to offer his services when the region was hit by heavy snow and freezing temperatures earlier this year. He worked tirelessly through deep snow and abysmal conditions in his Land Rover 110 picking up staff from their homes and returning them afterwards, and was one of a number of members of the public and local organisations that helped SECAmb maintain a safe and responsive service.