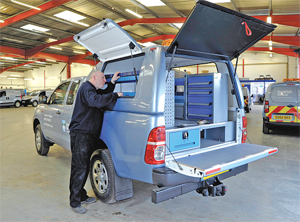 A new order of Truckman tops has been placed by Scottish Water with the British manufacturer Auto Styling. The utility company's fleet of Toyota Hiluxes will be fitted with the tops, designed to have bespoke storage options from Auto Styling, including shelving, racking and cabinets for tools and equipment. Engineers can access the storage systems through two access points (rear and side) designed into the manufacturing process. This order follows on from a fleet of 35 Truckman Classic hardtops that were ordered by Scottish Water last year.
The order tops off an impressive business period for Auto Styling. The West Midlands' vehicle accessory manufacturer and distributor, has recently announced a significant increase in turnover. Indeed, sales in 2012 topped £6.2m, up from £5.1 in 2011. This growth will mean the expansion into new units, and an investment of £250,000.
Mike Wheeler, Managing Director of Auto Styling Truckman, told 4×4 Magazine: "We are very pleased to have enjoyed continual growth against a backdrop of tough economic conditions. It is particularly satisfying, as a UK manufacturer, to have increased sales and output as there is a misconception that this country does not have a healthy manufacturing industry." Good to hear, and further underlines the growth of the use of pick-up trucks by utility companies – an area that was previously Land Rover's domain.