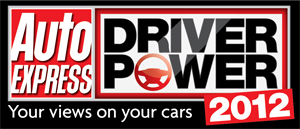 Britain's most influential car survey is back – and looking for owners to reveal all on their vehicles.
Auto Express's Driver Power is an annual survey which canvasses opinions on all aspects of car ownership, from running costs to performance, reliability to dealer service and insurance to breakdown operators.
Does your car consistently let you down? Is it more expensive to run than you imagined? Or would you wholeheartedly recommend it? These are the types of question Driver Power poses – and each year tens of thousands of motorists respond to give a comprehensive review of motoring life in the UK.
Driver Power is now in its 11th year, and more than 300,000 people have taken part over the last decade, firmly establishing it as the survey that motorists can trust – and the car makers fear.
Each year, Auto Express publishes the results of Driver Power, naming the Top 100 cars and Top 30 manufacturers, plus the leading insurers and breakdown operators. These charts provide an unparalleled overview of what real-life owners think of the cars they have bought and the after-sales service they receive.
To have your say in this year's survey, log onto autoexpress.co.uk/driverpower – everyone who takes part stands a chance of winning a package of award-winning car products worth more than £2,000.