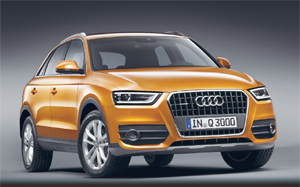 Audi's new compact SUV, the Q3, will be on the UK roads this November, with base models on sale for around £25,000. Unmistakably an Audi Q-series (the vehicle is certainly compact but it still has that domineering front grille), the new model was unveiled at the Shanghai Motor Show.
The approximate £25,000 tag is the only price available at time of going to press, but one can assume that will be for the petrol 170bhp 2.0-litre TFSI engined version. There will be three engine options, all directly injected and turbocharged; 2.0-litre TFSI in either 170bhp or 211bhp and the 2.0-litre TDI which offers 177bhp.
All models will have the benefits of Audi's quattro four-wheel drive transmission (we don't feel the necessity to mention that there will also be a front-drive model). The engines all have a new S tronic twin-clutch transmission, which disengages when the throttle pedal is released, when you are cruising, to reduce fuel consumption and improve engine efficiency.
The optional adaptive dynamics system incorporates comfort, auto, dynamic and efficiency modes, which influence the responses of the throttle and steering, and also the optional adaptive light and cruise control systems where these are fitted. When the efficiency mode is selected, the electronic climate control and cruise control systems operate at the optimum level to improve fuel consumption.
There will be two trim levels available on UK Q3s – the SE and S line. The SE models have 17in wheels, contrasting bumper colours, chrome window trims, aluminium roof rails and rear parking sensors. Inside, the Q3 SE has dual climate control, Bluetooth and Audi Music Interface iPod connection. The S line models will have 18in wheels, interior and exterior styling tweaks, xenon headlamps with LED daytime running lamps and LED rear tail lights.
The Audi Q3 does have raised ride height over the other Q-series models and the split torque quattro transmission should mean this is a well-equipped and competent, compact SUV. It's going to be a tough place fighting for compact SUV sales in the UK with numerous new models entering the battle, but the Q3 will have all the bells and whistles, will be well built and if you like that 'dominant' front nose on what will be a small SUV, this could be a very successful model.