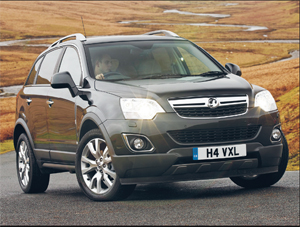 The 2011 Vauxhall Antara sports a refreshed exterior design, new engines, revised chassis settings and upgraded interior.

An all-new engine line-up comprises two diesel units with significantly reduced consumption and emissions. Manual and auto six-speed transmissions are also newly developed.
The 2.2 CDTI diesel comes in either 161bhp – with maximum torque of 258lb ft at 2000rpm with front or all-wheel drive and manual or auto transmission; fuel consumption is 44.8mpg and CO2 emissions are 167g/km combined – or 181bhp, producing max torque of 295lb ft at 2000rpm, standard with all-wheel drive and available with both transmissions; 0-60mph is 9.6 seconds and top speed 124mph, with combined consumpton 42.8mpg and CO2 emissions of 175g/km.
The Antara's electronically-controlled all-wheel drive system normally powers the front wheels. If poor traction causes front-axle slippage, the system redistributes power. Power distribution range spans from 100 per cent front-wheel drive to 50 per cent on both front and rear axles. Hill Start Assist (HSA) is standard.
Depending on model, 17, 18 or 19in alloys are available. The exterior sports an updated front grille with chrome bezel and a distinctive protection panel at the front and rear. A refreshed interior offers new trim and upholstery, along with leather trim option called Light Titanium.
Prices start at £19,995 OTR for the 161bhp Exclusiv with front-wheel drive. The next step will be an all-new compact SUV planned for 2013.