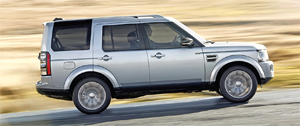 To state that a vehicle 'revolutionised the 4×4 landscape' is quite a claim, and regardless if that is a little too much marketing rhetoric for some, there is no doubt that after 25 years and one million models, it is certainly time of a celebration; hence the arrival of the new Discovery XXV Special Edition.
Of course, this new model has little in common to the original version that was first built back in 1989. The original model was built at a time when the company's future was particularly fragile, then under the ownership of British Aerospace, and before the sale to BMW, Ford and then to Tata where all can agree it has flourished. It's perhaps not surprising that those early models were something of a fragile mixture themselves, built from raids to assorted British Leyland parts bins, grabbing items previously seen on Morris Marinas, Austin Allegros and even Sherpa commercial vans.
There's no denying, however, that the design was spot-on (indeed the original model won a British Design Award on its launch). For some, this very unique early look has morphed into something that is less pleasing to the eye, but there's no denying either that the Discovery 4 is probably the most complete all round champion 4×4 on the market today.
The XXV Special Edition is based on the top of the range HSE Luxury version, but with a unique premium interior trimmed with Windsor leather and distinctive external badging, it is likely to become a collector's item. Available in Causeway Grey, with Narvik Black grille surrounds and Dark Atlas features on the grille and vents on the front wings, silver full-length roof rails, body-coloured handles, a stainless steel bumper tread plate and 20inch five-spoke forged alloy wheels it will stand out from the crowd.
As we understand, the Discovery is now to become a brand in its own right (like the Range Rover, which has both the Sport and Evoque as models within that nomenclature) so the future for the model is guaranteed. Will the replacement Freelander be branded a Discovery? And what of the Defender? All will be revealed. Exciting times at Jaguar Land Rover show no signs decreasing.
It seems one in four Land Rover Defenders fail their first MOT, which is the worse figure in the 4×4 market. That's the claim of the website tootcompare.com which analysed records from the Vehicle and Operator Services Agency (responsible for vehicle MOTs). Top of the class intriguingly, was the Honda CR-V. The 'failure' of the Defender is surely less to do with the vehicle, which is likely to have a much harder life than a CR-V, and more to do with the irresponsibility of the owners who would seem to have taken the 'indestructible' reputation of the Defender a little too literally.