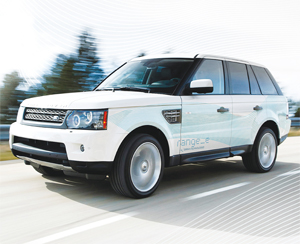 Well, it had to happen; the inevitable that we've all been waiting for… Land Rover has finally announced that it's introducing a two-wheel drive option (in addition to the 4WD derivative) for the new compact Range Rover. On sale in 2011, the 2WD vehicle will emit less than 130g/ km of CO2 – making it the lightest, most fuel-efficient Range Rover to date.
Phil Popham, Land Rover managing director, said: "A 2WD option is just one way in developing efficiency and expanding our customer base. We will continue to make the 'world's finest all-terrain vehicles' for those customers who require 4WD."
The use of hybrid technology is also part of the significant developments for the larger vehicles in the range. The first diesel hybrid will be available in 2012 and on the road in 2013.
By the end of 2010 Land Rover will be testing the first diesel hybrid prototype called the 'range_e', using a Range Rover Sport platform. Tests of this vehicle will use the existing 3.0-litre TDV6 diesel engine featuring ZF eight-speed auto transmission. The goal is to achieve a range of 20 miles using electric power only emitting less than 100g/km of CO2 and a top speed of around 120mph.
Land Rover is also in the headlines as the 200,000th Freelander 2 has rolled off the line at its plant in Halewood, Liverpool. The positive sales trend continues for Land Rover globally with sales up 64 per cent for May and 35.2 per cent year to date. The UK remains the largest market for Freelander 2 with sales up 79.3 per cent year to date.