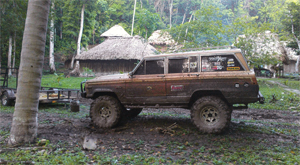 When it comes to a real expedition, not for archaeologist Francisco Estrada-Belli the comfort of a modern day, hi tech, four-wheel drive. Not for him some over hyped publicity drive from London to India in vehicles with six figure price tags, this guy's serious. Professor Estrada-Belli's weapon of choice is a lifted, big tyred, Jeep Grand Wagoneer of 1985 vintage. There's a wonderful serendipity that he should use this wonderful old beast during his recent expedition in Guatemala, where he unearthed a previously unknown Mayan stone frieze that dated back to 600AD… perhaps a touch older than the Jeep, but we still think it's impressive! As you can imagine by just looking at the pictures shown here, it was tough going, as the Professor explained:
"We didn't treat the poor truck very well. Most places we travel don't have roads, and more often than not we had to drive in very rainy, muddy conditions with heavy loads. The Jeep's engine was very tired after years of abuse, so we needed to have it rebuilt before the expedition."
And this is how we learnt about the expedition and this marvellous Jeep. Before heading for the jungle, the vehicle was completely overhauled using specialist parts from the guys at Summit Racing. This included a complete Mogul engine rebuild, new valves, Edelbrock camshaft, Milodon sump and oil system and one of Summit Racing's own timing chain kits. Summit Racing also provided a new torque converter for the Wagoneer's Torqueflite 727 transmission, uprated brakes with EBS brake pads, and a replacement radiator. The Jeep was also fitted with ARB air lockers, and given a Rough Country four-inch suspension lift, which allowed for the use of 37inch Super Swamper tyres. For when it really got tough, the good Professor had the use of a Warn 9.5 Series winch. You can learn more about his trip at Summit Racing's blog at www.onallcylinders.com.
Perhaps the most interesting part of this rebuild is that it was all done in Guatemala, using as the Professor explains,"Latin American mechanical talent." We are certainly impressed. What a Jeep! At a time when so many press and PR companies seem to swamp us with over-the-top stories of people doing 'arduous' expeditions, driving on 'difficult unmade roads' when they are all using modern 4x4s, and expecting us to be impressed, it is superb to hear about someone who takes a 28 year-old off-roader, adds some quality modern parts, which you have got to remember were never actually designed to be fitted to the vehicle, and then launches himself into the jungle in search of ancient treasures. We salute you Francisco.