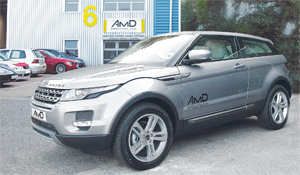 The new Evoque is much in demand, and there's already a waiting list but that doesn't stop the tuning boys getting their hands on one. AmD tuning and Milltek have developed a performance package designed to give the Evoque driver a claimed increase of 40bhp on the 190bhp Evoque. More important than just pure power, they also alter the torque curve to give far more grunt in the lower rev range where it matters most, particularly if the vehicle will be used for towing.
The conversion also benefits from a Milltek exhaust system which is a larger bore than standard and also profiled better to hug the underside of the Evoque – it actually gives the vehicle slightly more ground clearance compared to the standard straight system.
Our sister magazine, Land Rover World, was lucky enough to get hold of the AmD Evoque for a few days and editor Simon Ward-Hastelow told us: "The increase in low down grunt and sheer responsiveness while driving is very welcome, even on a vehicle that was no slouch to begin with."
Apparently, AmD had a little difficulty getting hold of a test vehicle, their original order for a five door SD4 Prestige Auto had to be abandoned due to the long waiting list, they then opted to take the three door Dynamic SD4 manual – the only one the dealer had available.
Simon spoke to Shaun Hollamby, MD of AmD Essex and he said: "We were very impressed with the Evoque in standard form but were very pleased to be able to get more out of it. The interesting thing is that we are sure we can get the same figures out of the 150bhp Evoque too. Watch this space!"
After a few weeks in their testing facilities and a stint at the Essen Motor Show, the Evoque has already been bought by an AmD customer who was similarly frustrated by the waiting list issue.
For a limited time AmD are offering the Remap at half price when bought together with the Milltek exhaust, a saving of £250 on the standard retail price of £995. Contact AmD Tuning on 01708 861827 to book a fitting or visit www.amdtuning.com