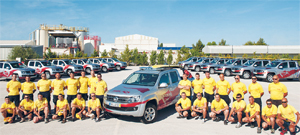 The recently launched Volkswagen Amarok pick-up is certainly proving to gain popularity, and sales, through a variety of clever promotions. The latest is a fleet of 14 pick-ups that have been rescuing surfers and swimmers in Portugal this summer.
The Portuguese National Institute for Search and Rescue has chosen the Amarok, each of which was fitted with an emergency lighting bar, racking for surf boards and an exclusive exterior design inspired by the original Volkswagen SAR pick-up concept vehicle that previewed the Amarok at the IAA Hanover commercial vehicle show in 2008. It is going to be very interesting to see how the Amarok stacks up against the other pick-ups on the market when we collect them together for a special group test later this year.
This will be part of our 2012 4×4 Of The Year issues that start at the end of this year. Indeed, such is the growth of the pick-up market in the UK that we are hoping to keep pick-ups separate for their own test. It is looking to be a very close run competition, worth subscribing to 4×4 magazine so as not to miss an issue!