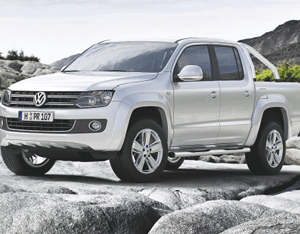 The new Volkswagen Amarok pickup has been honoured with the International Pick-up Award 2011. This accolade, awarded for the first time this year, was judged by a panel representing 23 countries that elects the International Van of the Year awards.
During the judging process the Amarok was praised for its 'effortless off-road abilities', while its capacity on-road was judged to be the best against all other competitors. The jury was also impressed by the Amarok's interior, in particular the layout and generous space for both front and rear passengers in the double-cab.
The jury commented: 'The new Volkswagen Amarok distinguishes itself by fantastic driving qualities, both on- and off-road. It sets new standards in the pick-up category in respect to load capacity, payload, interior room, comfort, ergonimics and fuel consumption.'
Set for launch in the UK sometime in spring in 2011, the Amarok offers the largest load dimensions in its class with a load area of 2.52m, a maximum payload capacity of 1057g and maximum towing limit of 2.8 tonnes.
All models also feature EDL (Electronic Differential Lock), ASR (Anti-Slip Regulation), ESP (Electronic Stabilisation Programme) with Hill Hold Assist, Hill Descent Assist and off-road ABS designed to shorten the stopping distances on loose surfaces.
UK prices and specifications for the Amarok will be released nearer the launch in 2011. Visit www.volkswagen-vans.co.uk/amarok for plenty more information or to register for news updates, or register your interest in purchasing one of the first Amaroks on sale in the UK.