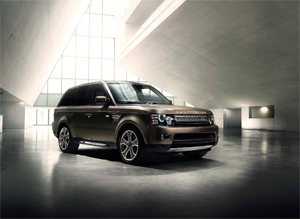 It's interesting that manufacturers are finding ways of improving CO2 figures, which involve adding gears to a vehicle's transmission. Land Rover has announced 2012 model changes which in the case of the Range Rover Sport sees the 3.0-litre SDV6 diesel engine receive a power boost from 245bhp to 256bhp, but more importantly, the CO2 emissions from the engine have been reduced by over 5%, down from 243g/km to 230g/km. And these improvements are due in part to the new eight-speed automatic gearbox, the ZH 8HP70. This same engine/gearbox combination is available on the 2012 Discovery 4, which results in a similar lowering of emissions. These engines are fitted with a diesel particulate filter which Land Rover claims make them the cleanest diesel engines on the market.
The 2012 has a new restyled and powered tailgate which allows the lift height to be set by holding the tailgate at the desired level and pressing the tailgate button for 10 seconds – a sensible development that will please a lot of people, not just those less-tall. Inside there are changes to the in-car entertainment systems, which include greater use of wireless technology. The stereo system now has a whopping 825W of power and no less than 17 speakers!
The Discovery 4 gets some design makeovers and equipment updates which include two new alloy wheel designs, new option packs for the audio and navigation systems – you can have the same audio system as the Range Rover. The 2012 model year Range Rover Sport is on sale in the UK from October and available from £48,795 on the road, with the Discovery 4 available from £37,995.
Our first drive of the 2011 Range Rover Evoque is on page 32 of this issue.