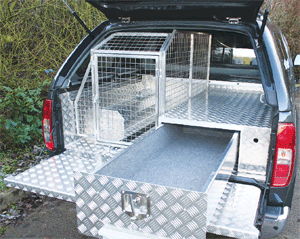 Now, this is what we call a pick-up loadbed storage solution. Available from N&J Aluminium Linings, the dog guard and storage draw pick-up bedliner is purpose-built to suit each customer's requirements.
The bedliner is fabricated out of aluminium chequerplate, meaning it can be hosed down when dirty and offers epic durability.
The product is aimed principally at shooting enthusiasts, who need a secure space for their dogs and for their shooting sticks. It is usually used in conjunction with an Alpha hardtop, which has to be purchased separately.
The sliding draw is a Tevo integrated system that can easily be accessed from the rear of a pick-up. It is used in conjunction with a stainless steel mesh dog cage, and the manufacturers even provide a cover for the gap created when the tailgate is folded down, to prevent dogs from catching their paws in it.