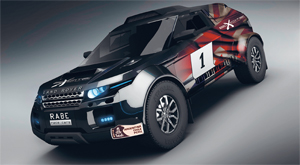 As you read this, the 2012 Dakar will soon be underway. Without doubt, still the most significant of all the global Rally Raid off-road competitions, the Dakar started way back in 1977 when the enigmatic Frenchman Thierry Sabine dreamt up the idea to race across North Africa. All these years later, international politics – and the threat of bandits – has seen the Paris-Dakar become just the Dakar, and is now run through Argentina, Chile and Peru. For 2013, a British team is preparing a new Evoque for this gruelling event.
Excite Rally Raid claim to be Britain's first professional Dakar team (don't tell former F1 race team owner and powerboat racer Ted Toleman and his partner and former World Hot Rod champion Barry Lee, who competed in the event in both Range Rover and Metro 6R4 machines). Excite Rally raid are joining forces with RaBe Race Cars and the project is being managed by David Jones, and is obviously a very serious attempt. Intriguingly, the Evoque's bonnet in these pictures is emblazoned with the words 'Land Rover' whereas the road cars are all Range Rovers. The vehicle will be something of a hybrid racer, however, as it is expected that RaBe will use a BMW turbocharged diesel engine – a proven Rally Raid unit.
It has always been a surprise to many, that Land Rover has never taken off-road Rally Raid events seriously to actually enter a 'works' team. The first official Paris-Dakar in 1979 was actually won by a privately entered French Range Rover. The model won again in 1981, driven by Rene Metge, who was to take two more victories in the event, but this time for Porsche.
In the last three years, it has been the heavily supported Volkswagen Touareg that has taken victory. The outright master of these races, however, has to be Mitsubishi, the Pajero having taken 12 victories. We will follow the Excite Rally Raid story with interest.