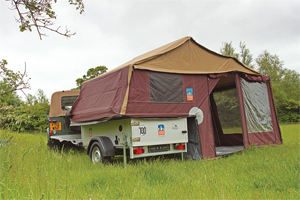 It is officially summer, so that means it must be time for a camping feature. Good accommodation for your individual needs is very important. With the help of Nene Overland we look at some varied tent options, which include some new options

Words and photography: Hils Everitt
If you are a 4×4 owner and enjoy the outdoors, then camping is a great way to breathe some fresh air and discover those delights that the UK, and the rest of the world for that matter, are offering. Good camping is reliant on good accommodation that suits your specific need, and that is where the tent comes in. There is a variety out there to suit 4×4 owners and their requirements.
Over the last couple of years another form of outdoor accommodation has sprung onto the UK market. Well, we say sprung but this form of tent has been around for centuries, we just have adapted it to the modern world. The Tentipi company is Swedish, but you can get hold of one via UK agents, one of which is Nene Overland.
This particular form of high comfort camping is de rigeur these days, but there are still other options if the larger living/bedroom-in-one isn't quite what you need. We asked Chris Hill, Nene's expedition specialist, his views on the various options, which include the 'new' Tentipi.