Bob Cooke – contributor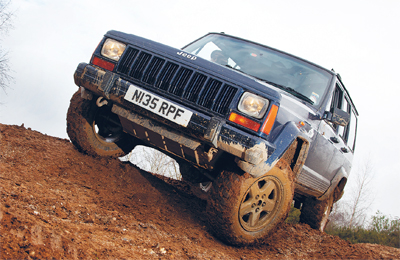 The Cherokee launched over the crest so quickly and came down with such a thump that I banged my head on the roof – I didn't think the seatbelt would stretch that much.
I blame the Trailmaster suspension – it's given the Cherokee an extra two inches of ride height and is hard enough to absorb the worst of shocks from ruts and ridges taken a little too quickly. The result is that I find myself tempted to tackle increasingly difficult obstacles, safe in the knowledge that the lifted Cherokee has the clearance and beefed-up suspension to make it all seem easy.
I am actually a firm believer in the 'tread softly' approach, and I'm usually able to ease the Cherokee over even quite tortuous obstacles simply by getting the approach right so the old truck doesn't have to lift a wheel, with consequent loss of traction. I can't really afford that, because although the Cherokee's Limited specification includes a limited-slip differential, it's reached an age where there's more slip than limit so there are times when the only way to clear an axle-crossing section is to floor it.