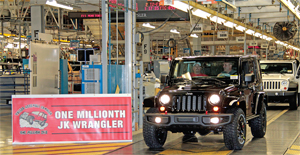 Great to see a vehicle that was conceived back in 1941 continues to roll off the production line, destined for another 4×4 enthusiast. This month saw the production of the 1,000,000th Jeep Wrangler JK, and as you would expect, it was quite an occasion for the Chrysler Group's executives and plant employees – especially as only a few years ago they were wondering if anything would be rolling off the line ever again.
All one million Jeep Wranglers have been built at the Toledo, Ohio plant, as Mauro Pino, Chrysler Group's Vice President of Vehicle Assembly Operations explained at the rollout: "Since this facility opened eight years ago, the Toledo workforce has built every one of those million vehicles with pride, passion and a focus on quality. We all look forward to building the next million."
The black 2013 Jeep Wrangler Rubicon 10th Anniversary Edition, was bound for a customer in Sarasota, Florida. A special-order limited-production vehicle, the Wrangler was 'loaded', as they charmingly describe it in the States, with 'hardcore off-road equipment for its enthusiasts including the Rock-Trac 4×4 system with 4:10 axle ratio and next-generation Dana front axle.'
The Toledo plant is located on the same site of the Stickley Plant complex, built back in 1942, and which two decades later started production of the original Jeep Wagoneer, a model that can be reasonably argued to be the first ever SUV. The new production line is now gearing up to produce the 2014 Jeep Cherokee, first details of which we revealed in the June issue.
The Wrangler has always been a firm favourite with this magazine, and we're glad to see production continues and that we will again have a Wrangler at our 4×4 Of The Year group test later this year. Sales in the UK have never quite hit the heights, indeed we have only seen 6987 Wranglers here. Last month's First Drive of the latest Grand Cherokee confirmed that this premium Jeep model will be very competitive in its market, and we have high hopes that the 2014 Cherokee can make its mark both in the UK and continental Europe. These are new models, but it's great that the 'old timers' like the Wrangler is still selling well.