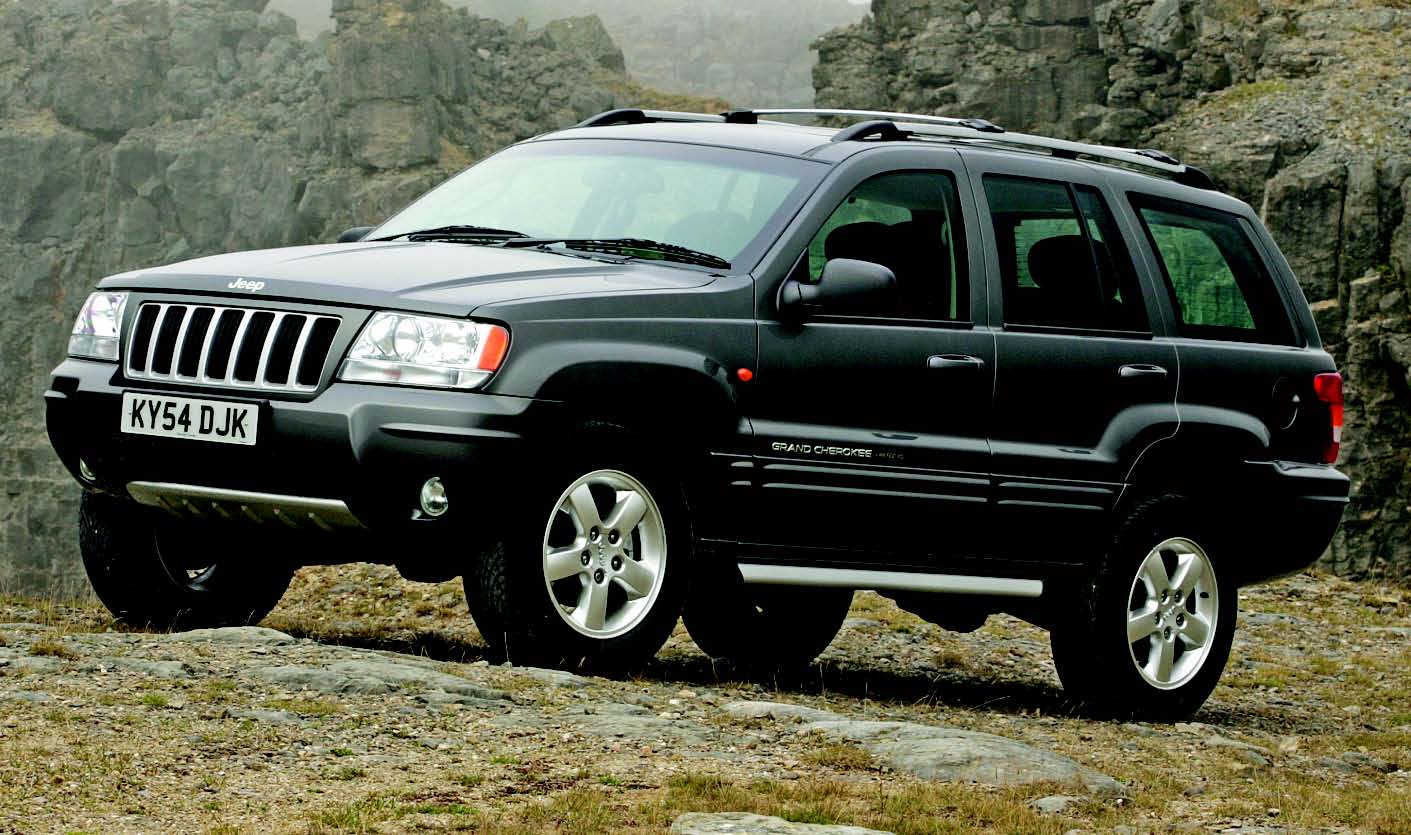 We've always considered the Grand Cherokee to be a good-value purchase, and that's particularly true for second-hand examples, since for a mere £3000 you're talking a high specification second generation Limited with the Mercedes 2.7 CRD engine, a car that sold for nearly £30,000 new in 2002 with a specification including leather upholstery, electric seat adjustment with heating and independent memory functions in each of the two key fobs, dual-zone climate control, eight-speaker stereo with steering wheel controls, electrically adjustable and folding rear view mirrors, cruise control and rain sensing wipers.
If you're looking for an off-road plaything there are high-mileage examples going for under £1000 – some with close on 200,000 miles on them which has to be some sort of commendation for the engines, which in most cases at this level will be the 4.0-litre straight six or 4.7-litre V8, the latter being particularly desirable as a relaxed and torquey off-road power plant, and no thirstier than the old-tech petrol six. It is worth shopping around for an Overland which has the superb Quadra Drive system which automatically locks front and rear differentials when conditions get difficult; note that this was also available as a £600 option on Limiteds, you might be lucky enough to find one of these at a good price.
The styling of the second generation Grand Cherokee was similar to the original but smoother and more aerodynamic, the leather-upholstered interior was just as opulently equipped, but more importantly improvements to the suspension settings and bushings meant mechanical refi nement and road behaviour were markedly better. In this respect the Grand can't match the ride comfort of a Range Rover or Discovery, because although it has a thoroughly modern highrigidity monocoque bodyshell it rides on heavy-duty beam axles, coil-sprung but not as supple as an all-independent arrangement.
This does at least qualify it as a worthy hard-core off-roader as well as a luxurious family estate, not to mention a competent towing car with a 3500kg capability. Earliest examples from 1999 included a turbodiesel, the 3.1-litre VM unit, but this is best avoided as it lacks the refi nement of the later and more powerful 2.7 CRD as used in the Mercedes M-Class. All versions have a four-speed automatic transmission with permanent four-wheel drive and a low range transfer gearbox. At first only the Limited specification was available, but for 2004 a base Sport and upgraded Overland versions were introduced; the Sport has cloth upholstery and a simpler air conditioning system, but it retains the electric seats, electric windows and remote  locking. The Overland was the range-topper, the enhanced specification including a CD autochanger and an electric sunroof.
One key special edition to look out for is the 60th Anniversary edition, introduced in July 2001 for a limited period, which was based on the 4.7 V8 Limited but adding the electric sunroof, a CD autochanger and metallic paint. With the end of the run approaching, September 2004 saw three new topspecifi cation variants on the scene, the Limited XS with 4.7 V8 or 2.7 CRD engine, the Platinum with the 2.7 CRD and the HO Platinum with the 4.7 V8. These all have satnav, as well as the electric sunroof, plus heated door mirrors and parking sensors, but these will be rare at under £3000.
Even at this low price it's worth looking for a car with a good service record since the engines and particularly the automatic transmission are very sensitive to the quality of lubricants. The petrol engines – especially the 'bulletproof' 4.0-litre six – are generally reliable, and while the 2.7 CRD has Mercedes credibility, it can suffer the same problems as any other high-mileage diesel such as worn injectors, fouled recirculation systems and failing turbo bearings. Make sure the engine starts instantly from cold, doesn't hesitate under acceleration and idles smoothly. It's more important to ensure that the transmission works properly, look out for delays in gear selection, excessive engine revving between changes and excessive whining noises. One symptom is a reluctance to select fi rst and top gears, so the car pulls away in second and doesn't go into its overdrive top when cruising, definitely one to avoid.
OFF-ROAD
ON-ROAD:
VALUE FOR MONEY: