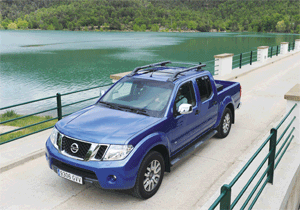 Nissan's well-proven Navara truck picks up a power, emissions and consumption upgrade plus meaty V6 turbodiesel that oozes torque. Of course there's been the inevitable cosmetic tweak, too.
Words: Graham Scott; photos: Nissan
Peeking into the cargo box in the bed of the Navara showed that Nissan takes hardcore seriously. I'd been thinking the ride wasn't bad for an unladen pick-up with leaf springs and the sneaky peek confirmed what I thought – the box was full of hardcore, helping settle the ride. In case you're thinking of buying a Navara and getting enough free hardcore to sort your garden path out – this is not standard fitment.